4 Simple Steps To Safely Move With Your Pets
Every Colorado resident loves their pets. The Centennial state is consistently ranked as one of the most dog-friendly states in the nation. And we have no shortage of cat-loving families as well. Pets are part of your family and when you move homes, you want to safely move with your pets. The process doesn't need to be overly complicated. In fact, it's easier than you think! Our real estate team developed a handful of simple steps to help you successfully move to a new home with your pets.
Step 1: Visit The Vet Early
We know that your pets probably hate the vet; practically every pet does! But, if you're really serious about your move, then this step is an absolute necessity. Your vet is the ideal resource to ensure that you move with your pets in a safe and successful manner.
Before you move, be sure to visit your veterinarian! They'll supply you with copies of your pet's medical records, their vaccination history, and any prescription medications that they might need. Your vet will also know the best practices and handy tricks when it comes to moving your family pets. They can also give you recommendations for a new vet! This will make it far easier to find a new local vet when you move to your new home.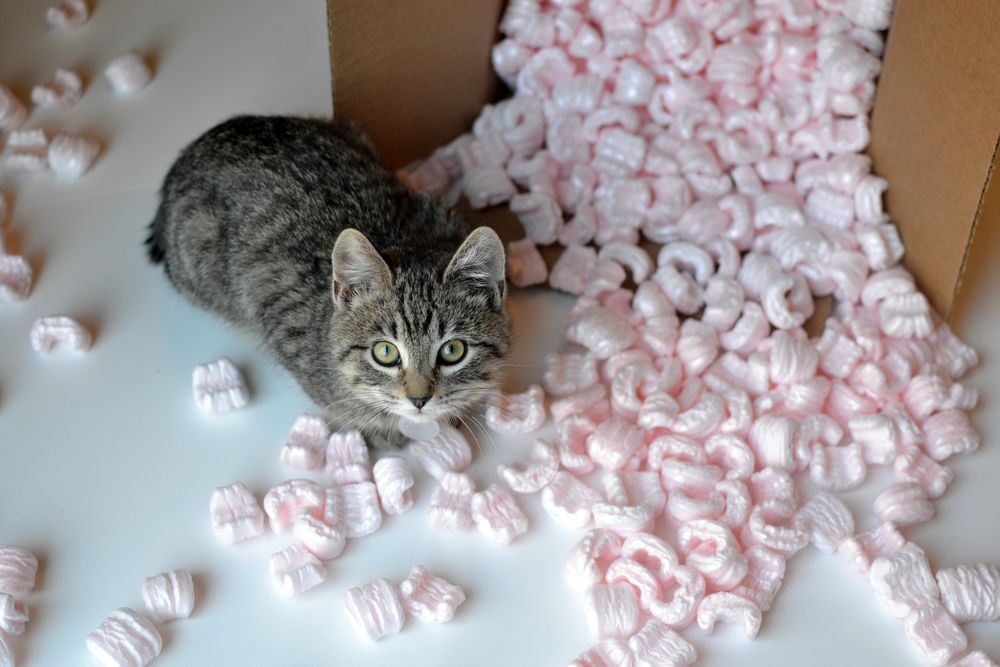 Step 2: Account For Your Pets When You Plan Your Move
In the months leading up to your move, you're most likely planning everything out thoroughly. The planning phase is critical to the success of your move and to the health of your pets. Did you know that pets and animals can easily become anxious and stressed out by small changes to their environment? Even simple things, like rearranging your furniture, can cause their stress levels to sky-rocket. Stress negatively impacts the health of your pets, so try to minimize their stress throughout the move.
Don't just pack everything up all in one week! Instead, pack up your belongings gradually and incrementally throughout a month or two. You also need to keep in mind how you're disrupting their daily routine. Take adequate breaks for walks and playtime to give them the reassurance they need. If you want to move with your pets, make sure they aren't overly stressed about these major changes.
Your method of travel is a crucial decision. Some pets just can't deal with air travel and others might struggle with long car rides. Here's what we would recommend:
Stick with driving if your new home is within a reasonable driving distance for you. Yes, we know that a road trip with all your possessions may sound tedious and a bit unnerving. However, your pets will feel the most comfortable when they're by your side the whole way. Plus, your dogs will enjoy the numerous bathroom stops along the way. To ensure you safely move with your pets, place your carrier crate in the back seat and fill it up with their favorite blankets and toys. You might also want to consider hanging a blanket on the window to avoid any added stress. Don't forget about the importance of planning ahead! Many hotels do not allow any pets and you definitely do not want to drive throughout the entire night. Your vet should also have helpful suggestions on how to avoid car sickness.
You should fly if the drive seems impossible and/or improbable. This route will require some additional planning and it may tack on more stress for your pets. Airlines may allow you to bring smaller pets onboard. Larger pets will usually be required to fly in the cargo area of the plane. While those cargo areas are perfectly safe, it separates you from your pet, which can make your pets feel incredibly anxious and stressed out. It may also be the more expensive option to move with your pets.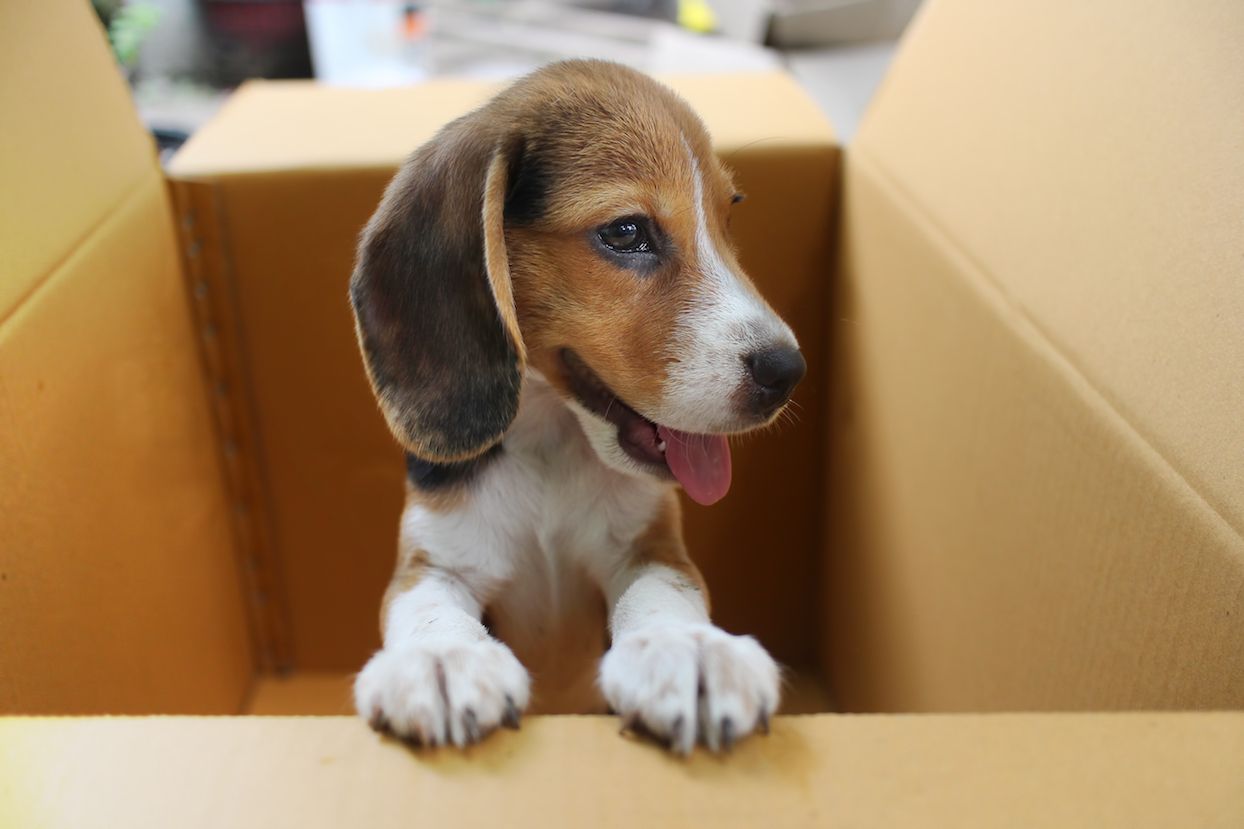 Step 3: Prepare Your New Home For Your Pets
Do not assume that your new home is completely safe for your pets. Every home is different, which means there could be hidden hazards and dangers for your pets. Be sure to perform a thorough inspection before letting your pets run wild in your new home. While you should inspect your entire home, these should be your first priorities:
Secure your windows and doors.
Tuck away/hide your electrical cords.
Check for broken glass, loose nails, and any protruding hazards.
Ensure there are no forms of dangerous pest-control in your home.
Check for holes in the walls, cabinets, and behind your appliances.
Your new home is a completely new environment for your pets. They'll be eager to explore and discover the new sights and smells of your new home. To ensure you safely move with your pets, you first need to ensure their new space is completely safe for them.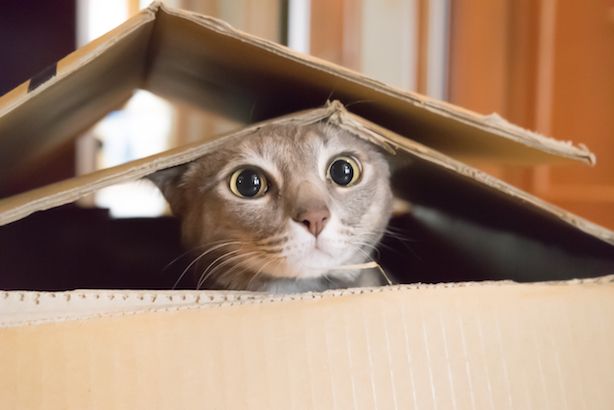 Step 4: Focus On Settling Them In Slowly
Every pet owner may feel inclined to let their pets roam free in the new home the minute they arrive. But, this is a classic mistake that you should avoid. All those empty rooms and new smells will quickly overwhelm them. You can keep your pets calm by isolating them into one room of your new house. Let them explore and get comfortable in this one space first before you open them up to the rest of their new domain. Plus, this will help make it easier to move all of your stuff in.
As we mentioned earlier, animals can get easily stressed out by simple rearrangements. You are free to arrange your furniture and personal possessions however you want in your new home. However, we'd recommend you place familiar objects in the same locations as your previous home. Did you keep the litter box in the bathroom in your old home? Then you should place that same litter box in the bathroom of your new home. This simple consistency will help keep your pet's stress down.
Routine is the cornerstone of any pet's daily life. Try to get them back on that routine as soon as possible! Do you feed your cat wet food at a regular time every evening? Get back to that daily routine ASAP. Do you take your dogs for a walk every morning? Start doing that the morning after you move in! It'll help them get comfortable in their new neighborhood and reestablish things to look forward to in their daily lives.
We know that it's not always easy to move with your pets. They may seem lethargic and upset for the first few days in your new home. But, you can rest assured that they'll be the king of the sofa soon enough and begging for your love and attention within a few more days!